Dame's Rocket or Hesperis matronalis is an invasive plant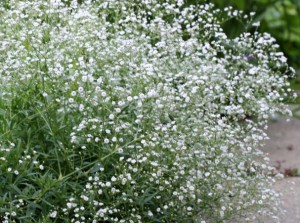 Common Baby's Breath is an invasive plant
Avoiding Invasive Plants
Green thumbs in the Town of Coaldale are encouraged to consider carefully their plant choices.
Plants from other parts of the country and even from other parts of the world have made there way into local gardens, flower beds and landscaping and can threaten native species.
Local residents should make themselves aware of which plants are native to our region and which are considered invasive.
These plants often spread, intentionally and unintentionally, and can force out native plants and damage natural areas.
The Town of Coaldale has "Grow me Instead" brochures available to provide residents with information on what to plant and what to avoid.
For more information on invasive species in Alberta please visit the Alberta Invasive Species Council website.
Invasive Species Photo Gallery
Purple Loosestrife is an invasive plant.
Pale yellow iris are an invasive plant