Follow our weekly Coaldale Fun Facts on social media and at coaldale.ca.  Find out where our Centennial Owl, Mr. Bogle, will be located that week and take a selfie with him.  Tag us #CoaldaleCentennial with your selfie and be entered into a monthly draw for a chance to win a plush centennial owl keepsake.
Week 45
Did you know that the first Country Christmas Night of Lights Parade took place in 1998? 
 The Coaldale Kinsmen brought the idea to Coaldale and planned the parade after seeing a Winter Light Parade in Kalispell.  The parade started at the hospital and went to the Mohawk station (now Prairie Sky RV) and turned around and went back to the hospital so that the parade looked longer than it actually was.  The first parade had 6 floats.  During one of the first parades, the Kinsmen used a flatbed trailer to carry an airplane through the parade.  The wings hung over the sidewalk and people had to duck as it came by.  At one point, the wing came to within 6 inches of the "Vent" hotel.  After a couple of years, the parade had grown and upon the turn around at the Mohawk, the parade ran into itself and everything came to a screeching halt.  In 2001 and Chamber of Commerce took over the parade from the Kinsmen.  Thank-you Kinsmen for starting this wonderful Christmas event for Coaldale.
Week 44
Did you know that even though water from irrigation came early to Coaldale, it did not ensure an adequate supply was available for fighting fires, especially during the winter? 
Early fires included the Mitchell Nursery in 1917, Pioneer Motors in 1921, Haygrowers Hall in 1923, the hayshed behind the hotel in 1923, Alberta Pacific elevator in 1937, St. Ambrose Church in 1942, and the doctor's office in 1943.  The first fire fighting equipment was a chemical tank on wheels, but it never worked and most times people would show up with buckets.  Real fire protection became a reality in 1952 with the installation of water and sewer and the delivery of the first new red fire truck in 1953 which was driven here from Woodstock Ontario.  The first fire it attended was in Readymade in 1954 and the final fire at RI Baker and ACE Lumber in 1977.  It was retired in 1979 and sold to the Kinsmen for $1.  They then raffled it off and raised $10,000 for the Sportsplex.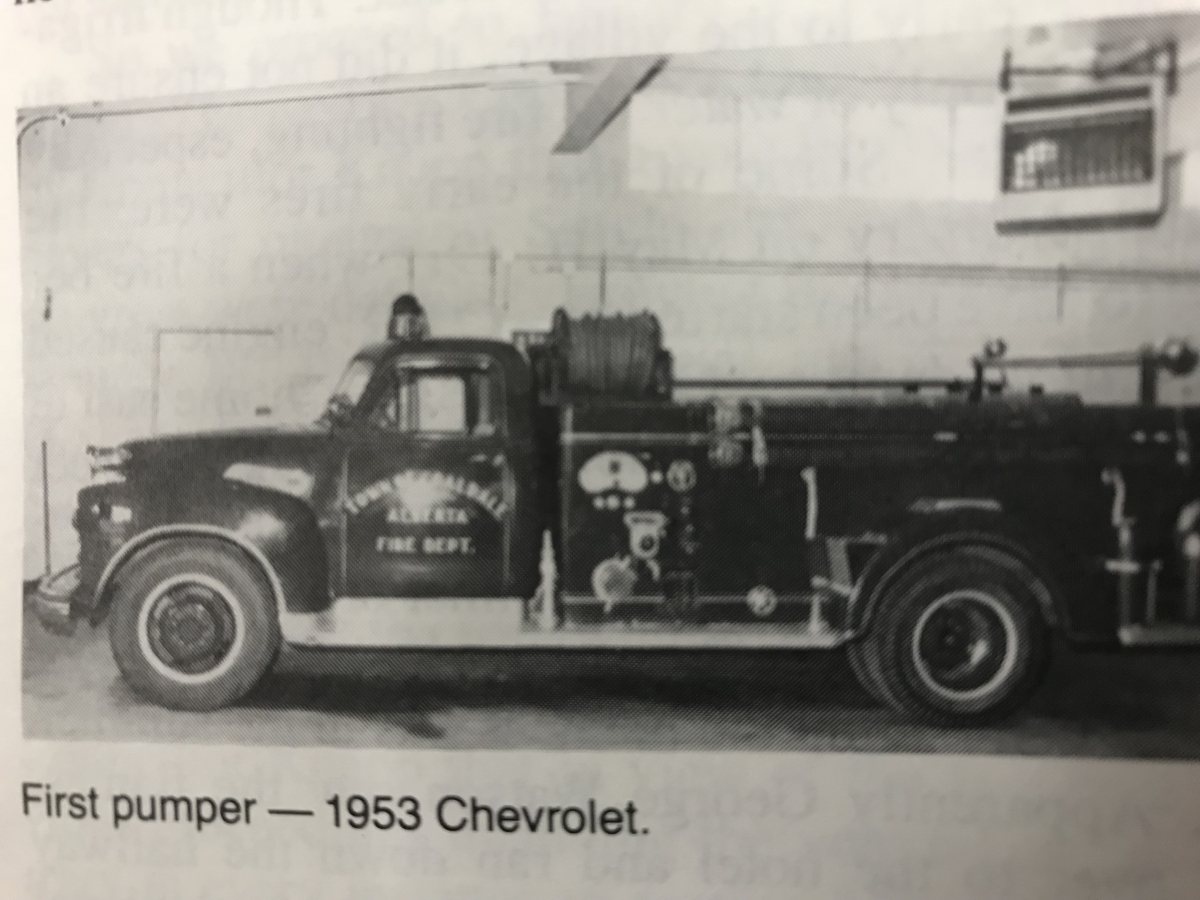 Week 43
Did you know that the Coaldale Cemetery was established in and around 1927?  Enough land was purchased from the CP Rail to build the church and the cemetery.  The headstones of Elisabeth Hamm (1887-1927) and Elisabeth Braun (1874-1927) appear to be the oldest in the cemetery.  There are also many many new born and infant headstones dating from 1928.  During this week leading up to Remembrance Day, you can pay your respects and visit the gravesites of many of Coaldale's war heros who are laid to rest in the Coaldale Cemetery.
Week 42
Did you know that in 1982, with almost no wildlife rescue activity in Western Canada, Colin Weir and Wendy Slater started Alberta's first volunteer wildlife rescue facility? 
 Since private individuals could not possess wildlife, special provisions had to be made by the province to allow this important work to commence.  In 1984, at their own expense and with the help of many friends and volunteers,  Collin and Wendy started rehabilitating what would grow to be thousands of injured birds from across Southern Alberta.  They also began using injured and non-releasable birds for public environmental education programs in schools and provincial and national parks.
Week 41
Did you know that the complex known as Martens IGA Foodliner & Martens Hardware had its origin dating back to Dec 1, 1929? 
Klaas Enns General Store was located at the front of present day Westland Insurance.  Klass was a farmer from the Readymade area and had no knowledge of how to operate a store, so he hired John P. Martens as store manager.  In 1932 the name was changed to Del Monte which means "the peak", "the top", "the apex".  This was John's aspiration - to provide Coaldale with top notch service.  In 1966, two new buildings were built and the business was divided into Martens Allied Hardware and Martens IGA Foodliner.  Three generations of Martens shaped this iconic Coaldale business.
Week 40
Did you know that Coaldale had at least 6 different service stations operating along main street? 
The Red Head Service Station was one of them and was located at the corner of 1st Ave and Main Street (which was also part of Highway 3 until the 1950s when the highway was moved to where it is today). It was established around 1934. The Red Head had the distinction of being on of the only buildings in Coaldale having photos of it which included Coaldale's one and only traffic light ever. 
Week 39
Did you know that the first garage in Coaldale was built in 1918? 
 The Pioneer Motor Company Garage and Blacksmith Shop was located at the NW corner of Main Street and 4th Ave (today's 17th St).  On June 14, 1918, the garage installed an electrical light plant to supply the Hay Growers' Hall, Lund Hardware, R.Baldry and their own garage with power.  In 1922 the garage and residence burned to the ground. In 1932, Scott Davis built his garage and home on this site and in 1938 he added a large store and showroom.  By 1945 he was selling Purity 99 gas and became an independent oil dealer, hauling gasoline and diesel from the oil fields.  He also sold cars, trucks, tractors and sugar beet diggers.  In 1978 the property was sold to the Town of Coaldale and the new Town Administration Office was built.
Week 37
Did you know that the very first business in Coaldale was a lumberyard with a large warehouse and shed?
 J.W. Burnside opened the business in the spring of 1907 according to the Lethbridge Herald Feb 27, 1909.  It was located on the NE corner of Main St and 4th Ave.   On Jan 15, 1909 Citizens Lumber Company (an Alberta chain) purchased Mr. Burnside's lumber yard and on March 2, 1909, the Lethbridge Herald reported that the Citizen's lumberyard was rapidly increasing its stock.  A fire on Dec 26, 1911 destroyed the office, sheds and contents of the lumberyard.  Everything was rebuilt and in 1918, Roy Greer became manager.  On May 16, 1921, it was reported that Mr. Greer sold 6 silos to Coaldale farmers, a Citizens' exclusive and a very big deal.  Advertising during this time referred to the business as the "Red Yard", likely due to the color of its paint.  In 1980 the lumberyard was demolished to make way for a small shopping mall.
Week 36
Did you know that the very first house erected in Coaldale was built in 1905 by Harry Suggitt, but it was actually located at the SE corner of Railway Street and 4th Ave (today SE corner of 17th St  & 19th Ave)? 
Suggitt's second, more elegant farm home was actually built in 1908 on the north side of the railway tracks on his farm - correction to Fun Fact Week 26. 
 The original house was the only building to be seen between Lethbridge and Taber.  Although it was built for his family, the main reason for the house was because Lethbridge businessmen had no faith in the Coaldale irrigated district and were dissuading people from settling here.  The house enabled settlers to be kept on location until they had selected their land (Lethbridge Herald Oct 26, 1921).  In 1921 Suggitt moved the house 2 miles south of town and in 1929, Pat McCann built a house on this plot of land.
Week 35
Did you know that upon founding in 1905, Coaldale had a different street numbering system than today?
 Today                                    1905
20th St (HWY 845)             First Ave
19th St                                   Second Ave
18th St                                   Third Ave
17th St                                   Fourth Ave
20th Ave (Main)                 Main St
19th Ave                               Railway St or Chinese Alley
 The first business blocks were comprised of blocks 7,8,9, and 10 (on attached map).  Each block was divided into lots with a frontage of 25 feet and depth around 150 feet, all of which could be subdivided.
Week 34
Did you know that Coaldale had a Chinese laundry as early as 1917?  The laundry was located on Railway Ave or "Chinese Alley" as it became known because of the 3 Chinese owned businesses along this street (today's 19th Ave).  In 1926, the proprietor was Quon Lee.  On April 30, 1926, it was reported that the Chinese laundry was doing a good business.  It was still in existence in 1930 as per the Lethbridge Herald Archives.
Week 33
Did you know that the first seniors' residence in Coaldale was the Mennonite Home for the Aged constructed in 1955?
 Following majority approval by a meeting of the Conference of Mennonites in Alberta in 1952, Coaldale was chosen for a much-needed seniors' home. In 1953, a two-acre plot of land was purchased and various fundraising efforts were undertaken to raise the $19,500 needed for materials. The home was constructed primarily by volunteers. The home was able to accommodate 16 residents on the main level and in the basement and included two bathrooms, a kitchen, a dining room, and a large common living room. In 1967, an additional 3 rooms plus an additional kitchen, two bathrooms, dining room, and living room were added onto the facility.  Room and Board ranged from $70-$90/month.   In 1976, the Sunny South Lodge was built and could accommodate 44 residents. The common areas included a lounge, dining room, and a visiting area. Each unit for residents was equipped with its own bathroom and residents were encouraged to decorate their rooms as they wished, and were allowed to bring in one or two pieces of their own furniture. In 1978, Sunny South Manor was opened, containing 12 units which each included its own kitchen, living room, bedroom, and bathroom. Residents could decorate and furnish their own unit. The facility itself included a games room, common sitting room, and laundry facilities.
Week 32
Did you know that the first printed media in Coaldale was distributed in 1940?
 Jacob Lowen was a school teacher in Russia who taught German and Russian language classes.  While in Russia, Jacob wrote his first news release and posted it on the official bulletin board. While records do not indicate what this release said, it forced him to flee Russia as a refugee. Settling in Coaldale, Jacob began his printing business with a small lap-top printing press and a case of type which he was able to purchase for $45. In the first year, he only managed $26 in profits. Jacob also printed religious pamphlets, in German, for prisoner-of-war camps throughout Canada. Four years later in 1947, Jacob purchased a linotype and began printing an advertising sheet. This sheet became the Coaldale Flyer by 1950, and by 1956 it was being circulated to 500 subscribers. Jacob aimed to inform his patrons of such things as fines, regulations, taxes, and general news. By 1957, Jacob was also in charge of the Lethbridge Northern News and the Raymond News. Jacob employed twelve correspondents to contribute to the papers. In 1959, the Coaldale Flyer and the Lethbridge Northern News combined to form the Sunny South News.  The printing press operated in this building from 1940 -1973.
Week 31
Did you know that in 1920 Coaldale was praised as "the premier wheat producing land in the world"? 
The area around Coaldale was first surveyed in 1857 by Captain John Palliser, who concluded that the land would be completely unsuitable to support agriculture. The extremely dry conditions, in conjunction with high winds and heavy spring floods certainly did not make the area seem likely to be prosperous. In 1893, the Canadian Northern Irrigation Company, lead by Elliot Galt, spearheaded a project to establish irrigation in the area. The Company had been awarded land by the government in exchange for constructing a railway, and they needed to attract settlers to sell the land to in order to make a profit from it. Over the next few decades, irrigation canals were built and improved. Dirt ditches were converted to reinforced concrete canals. Irrigation allowed for a wide variety of crops to be grown in an area previously thought unable to support them. In fact, in 1915 and 1916, Coaldale raised the world's record wheat crop and in 1920 the area was praised as "the premier wheat producing land in the world". Cattle, sheep and pigs were also raised in the Coaldale area. The first sugar beets were grown in 1903 and processed as the Knight Sugar Factory in Raymond. Later surpassed by sugar beets, alfalfa was the first major crop to be grown in the area. Wheat, seed crops, a large variety of vegetables, potatoes, even strawberries were grown and made Coaldale one of the most diversified farmland in Western Canada.
Week 30
Did you know that Coaldale's Main Street used to have boardwalk sidewalks instead of concrete?
A poster advertisement from 1926 boasted that the community had "about ten blocks of good plank sidewalks". Some of those who were children at the time remember skipping out of school just to go down and walk along the boardwalks, which were quite a novelty at the time. Years later, children used those same sidewalks as a source of pennies, fishing fallen coins out from between the cracks in the planks in order to fund the purchase of candies and other sweets. The wooden sidewalks were difficult and expensive to maintain, however, particularly as the streets were still unpaved and turned very muddy every spring. In 1945, concrete sidewalks were first laid on Main Street, which was part of Highway 3 at the time, replacing the wooden boardwalks. The street itself was paved in 1947.
Week 29
Did you know that Coaldale's first railway station was a repurposed boxcar?
Put into service sometime before 1905, the boxcar had been replaced by the Canadian Pacific Railway with a proper station building by 1920. Originally just east of 20th Street and north of Highway 3 behind the grain elevators, the station was later re-located at the request of Coaldale residents as the land around the station became very wet and muddy every spring. At the time, almost everything was shipped by rail, including livestock, as the transport trucks we have today did not exist and roads between communities were few and often unpaved. Dayliner trains transported people between cities and towns until the early 1970s when automobiles became commonplace and few still used the passenger rail service. In 1971, following the end of the last Dayliner train between Vancouver and Medicine Hat via Lethbridge, Coaldale's CPR station was sold and converted into a private residence.
Week 28
Did you know that one of Coaldale's longest standing buildings was once occupied by Coaldale's founder and looks much the same today as it did when it was first built?
Now home to Sunny South News and North & Company LLP, this building has stood on main street since 1919. The building's first tenant was Coaldale founder Harry Suggitt, who opened the Suggitt Land Agency and Insurance after operating out of the front room of his house for many years (Week 26 Fun Fact). In 1923, the Suggitt family moved into living quarters at the rear of the building and lived there until they left Coaldale in 1926. In 1936, Dr. Epp, Coaldale's first doctor, opened a medical office in the building and operated out of the space until 1947. Doctors contracted by the Coaldale Mennonite Health Society continued to operate out of the building until the 1970s, and then the building continued to serve as a medical clinic under the Campbell Clinic until 1976.
Share your selfie. Our Owl is set up at 1802-20 Avenue until July 29 and then he will be on the move again.
Week 27
Did you know Coaldale had the first Mennonite Brethren Church in Alberta?
During the 1920s, thousands of Mennonites fled religious persecution in the USSR and immigrated to Canada. In 1929, they built the first Mennonite Brethren Church in Coaldale. The congregation continued to grow, and even after two additions, the building was too small. A new building was constructed in 1939 which could seat a congregation of 400. This building and adjacent bible school were the hub of the Mennonite Brethren community until 1971, when the building was sold to L&D Masonry who used it as a factory for many years. In 1995, a group of local residents approached the Town of Coaldale and proposed that they purchase the building in order to save the historic structure. These volunteers formed the Gem of the West Museum Society and, after extensive restoration work, the museum opened in 2001.
Share your selfie. Our Owl is set up at the Gem of the West Museum, 1306-20 Street (Hwy 845) until July 22 and then he will be on the move again.
Week 26
Did you know the first house in Coaldale was constructed in 1905 by founder Harry Suggitt?
The area east of Lethbridge was nothing but empty prairie land when Harry Suggitt and his family arrived in the winter of 1904. Following the death of his father-in-law, Mr. Cokeley, Harry Suggitt found himself at the head of the Southern Alberta Farms Company. A drug store owner from Illinois, Suggitt needed to fulfill a contract with the CPR to settle the land in the Coaldale area. The Suggitt family constructed the first house in Coaldale in 1905, just north of the railway tracks. The front room of the house served as an office, where Harry could meet with prospective settlers. The Suggitt family left Coaldale in 1925, but their house still stands as a private residence, and looks much the same as it did when it was first built.
Share your selfie. Our Owl is set up at 1720-20 Street until July 15 and then he will be on the move again.
Week 25
Did you know that in 1919 Coaldale held its first fair?
1919 was extremely hot and dry in southern Alberta and many communities cancelled their local fairs because of the devastation and crop failure. Coaldale being unique however had IRRIGATION and the crops were great. The community had to celebrate. September 16 and 17 marked Coaldale's first Irrigation exhibition. The alfalfa crop was especially bountiful, so what better way to promote the irrigation way of life than to construct an immense exhibition building made entirely of alfalfa bales on the fair grounds (2000 bales in fact). It was the main building for the fair and nicknamed the Alfalfa Palace. To celebrate Coaldale's 100th anniversary, the Alfalfa Hay Palace is honored on the label of one of our Centennial Coaldale beers, "Coaldale Quick One" which will be available at Settler Days in the Kinsmen Lounge. 
Our Centennial Owl is set up at the HUB field on 13 Street behind the arena until July 7 and then he will be on the move again. 
Week 24
Did you know that the history of Wiebe's Delicatessen dates back to 1919?
After starting as a "Friday Only" business operating out of the Baldry store (Week 3 Fun Fact), Stanley Smith started his full-scale butcher business in 1922. In 1934 the Coaldale Meat Market Building was built and the butcher shop has called this location home for the past 85 years. In 1936 an annex was added to the east side of the building to accommodate Coaldale Cash Grocery. In 1941, a freezer storage plant was added which contained 163 of Alberta's very first locker boxes available for rent to patrons – cold storage for meat as home freezers were not very large. When meat was purchased, the patron would store the meat in one of these lockers and then come down to the butcher shop and retrieve smaller quantities of what was needed at home. Lockers 164-299 were added in the 50s. In the early 80s, John Wiebe took over the business and ran Wiebe's Sausage Works for over 30 years. Take a walk inside and notice the ceiling. Although the saw dust and oiled wooden floors are long gone, the original tin ceiling tiles remain and the original lockers, although not needed these days, still stand as a testament to one of Coaldale's oldest continuously operated businesses.
Visit the Gem of the West Museum to step back in time at the Coaldale Meat Market Butcher Shop Exhibit. Our Owl is set up at Weibe's Delicatessen, 1707-20 Avenue until June 30 and then he will be on the move again.
Week 23
Did you know that one of Coaldale's first pioneers was from Hong Kong?
Dan Yip settled in Coaldale in the 1920s and opened The Club Cafe, one of two cafes in town at that time, at the current Top Notch Taxidermy location. Across the road was the stockyards, CPR station and elevator row (across the highway from where you are standing). Most of the money he made was sent to his family in Hong Kong. In the 1930s, with Coaldale growing quickly, "Yip" opened The New Club Cafe on main street across the street from the Coaldale Hotel. This new cafe was open 7 days a week from 7 a.m. until 11 p.m. It also sold baking supplies, dairy products, canned goods and tobacco products. Penny candy was a highlight for the kids. In 1940 a Wurlitzer was installed and the cafe became the popular place for the "bobby sox" crowd. In the early 1950s Yip's family was finally able to immigrate to Coaldale when the Canadian immigration laws were relaxed. After Yip's death, The New Club Cafe closed its doors for the final time in 1966. Stop by the Gem of the West Museum to visit the Club Cafe exhibit in honor of Yip. Original counter and benches from the Cafe are on display.
Our Owl is set up at the corner of 1905-18 Street until June 23 and then he will be on the move again.
Week 22
Did you know that in 1857, the Coaldale area was deemed unsuitable for agriculture?
Today we know that this was incorrect. The only ingredient missing for making this area the "greatest wheat producing land in the world" was water. In 1905 Elliot T. Galt's irrigation project brought water to Coaldale. "Coaldale and irrigation are synonymous". Irrigation was here before Coaldale. Like all towns back in the day, agriculture drove the economy, however, Coaldale was unique. It was actually the centre of the pioneer irrigation project in the Dominion of Canada. Irrigation brought settlers and settlers made Coaldale. The Coaldale lateral, one of six main irrigation ditches in east Lethbridge County, is what is in front of you. It has been here since 1905.
Our Owl is set up at the corner of 17 Street and 24 Avenue along the canal until June 16 and then he will be on the move again.
Week 21
Did you know that Coaldale had home delivery of milk?
The Coaldale Cheese Factory had been accepting local farm milk to make cheese since 1938. In the mid 1940s, the residents of Coaldale started asking the Coaldale Cheese Factory for pasteurized milk. Equipment was purchased and in 1949 home milk delivery started. The milk was delivered by horse and wagon. The first milkman was Wilhelm Unger and then in late October of 1956, Mrs. Jessie Wiebe took over the job. She did well with the horses, but had trouble at first backing the milk wagon up to the chute to load the milk crates. During the winter of 1956, temperatures dipped to -40 degrees Fahrenheit, but the milk and cream still had to be delivered.
Our Owl is set up on main street at 1806-20 Avenue until June 9 and then he will be on the move again.
Week 20
Did you know the MCC Sale and Auction has been a part of Coaldale since 1975?
The Mennonite Central Committee helps people around the world by responding to basic human needs and working for peace and justice. It provides emergency food and shelter and medical and cleanup assistance to help people recover from disaster; provides programs for agricultural and medical development; assists with providing clean safe drinking water; promotes a life of peace and non-violence. The organization was initiated in 1920 in order to respond to the need of Mennonites in Russia (which had a direct impact on many of the people who immigrated to Coaldale during this time). Since that time the relief, development and social reform activity of the MCC has steadily grown world wide. The first MCC Relief Sale and Auction in Coaldale was held in 1975 and was held every two years. In the 90s, it returned to Coaldale every three years.  t is an honor to have the MCC Sale and Auction back in Coaldale in 2019 during Coaldale's 100th Anniversary. Plan to attend the event and support the volunteers of MCC May 31 and June 1 at the arena.
Our Owl is set up at the arena until June 2 and then he will be on the move again.
Week 19
Did you know that in 1947, you could start a drug store business for $1200?
Peg McCann rented space from George Peck who had just purchased his own building for his barber business. $600 went to fixing up the place, including a coal burning stove, and $600 was put into stock. When the men came into town to visit the pool hall, the ladies would come into the drug store which was open until 10 p.m. or sometimes even later. "Ours was a Saturday night town. In 1947 we had wooden sidewalks and no hard surface roads, so I shovelled out lots & lots of mud." That first year in business a selection of Christmas gifts was brought in and every last item sold. The support from the residents was tremendous. "Truly, this Coaldale is the Gem of the West." In 1967, Rudy Gettman bought the business and ran it until 1992.
Our Owl is set up at 1723 – 20 Avenue until May 26, at the current Pizza Hut site and then he will be on the move again.
Week 18
Did you know that in the early days of most small towns, the pool hall was the social place to meet?
In most small towns in the early days, the pool hall was always the social place to meet. In 1919, Herman Smith built the first Coaldale pool hall, The Alfalfa Billiard Hall, on main street (McLennan's today) and ran his business for 25 years (1919-1944). Mr. Smith served as a Village of Coaldale councillor, reeve and mayor; he was the secretary-treasurer of the Coaldale and District Telephone Company; he was very involved in local sports including curling and especially baseball. He was also the best binder repairman in the district come harvest time. In 1923, George Peck added to the business by setting up his barber chair in the NE corner of the pool hall. When the farmers came in for a hair cut on Saturday night, there was always a lineup so George handed out numbers to everyone in line so that they could play the slot machines or play pool instead of sitting and waiting for their turn in his chair.
Our Owl is set up at 1711-20 Avenue until May 19.
Week 17
Did you know that Coaldale had a nursery that supplied many of the very old trees you see in town today?
In 1911 the Mitchell Nursery Company was formed and managed by Archibald Mitchell. All of the older trees on the property today are the original trees moved from the river bottom at Monarch as saplings and were used as dividers and shelter belts for the hundreds of smaller plants that were for sale. The nursery also supplied all of the trees throughout Coaldale from those they dug from the river bottom. These trees are over 100 years old. The nursery stock included small trees, shrubs, fruit bushes, strawberries, raspberries, currants, gooseberries, and rhubarb. Orders for the nursery stock were received and then the plants were dug, their roots wrapped in moist sphagnum moss then in burlap which was sewn together with heavy twine and huge needles. These bundles were hauled by dray to the CPR station and shipped express. The Mitchell house is now owned by Bonnie and Dwayne Sturm and looks very much as it did in 1911. You can see it at 202041 TWP Rd 92 (Travel West on 18th Ave).
Our selfie site with our Centennial Owl Mr. Bogle will be set up until May 12 and then he will be on the move again.
Week 16
Did you know that the first street paving in Coaldale was done in 1947 on main street, which was part of Highway 3 in those days?
Rubber boots (or gum boots as many called them) were accepted and required dress prior to this time. George King, who was in charge of Coaldale's general maintenance in 1951 mentions that "the horse and buggy had little trouble with the gumbo soil during spring thaw or the rainy season, but as cars became more prevalent, people often had to park their vehicle and hope they didn't lose their footwear in the deep deep mud".
Funds for road improvements were always hard to come by. In 1940 a huge effort was made to improve and gravel main street. $250 in donations were received and farmers donated their trucks to haul the gravel. They were paid 1 gallon of gas for every yard of gravel hauled. Gas was 23¢/gallon.
Take a photo with our Centennial Owl, Mr. Bogle this week at the Clock at the corner of 17 Street and 20 Avenue until May.
Week 15
Did you know that Coaldale had an award-winning cheese factory?
In 1931, the price of grain and feed was very low and pasture was abundant so dairy products were widely available. By 1937, a group of Mennonite farmers decided that Coaldale would be home to a cheese factory, allowing local farmers to sell their milk. In Feb. 1938, John Mader was hired as the first cheesemaker. Henry Nikkel also served as cheesemaker until opening Economy Corner in 1949. The Cheese Factory operated successfully, making some of the best cheese in Alberta, from 1938-1972 when it was sold to the Alpha Milk Company of Red Deer. 
Our Centennial Owl will be at 1702-18 Avenue until April 29.
Week 14
Did you know that you used to be able to buy groceries on credit?
"The Store on the Corner That Deals on the Square" was the motto of Economy Corner at the SE corner of 20 Avenue and 17 Street (home of Kustom Auto Body today). Henry Nickkel and Frank Friesen started the business with $6000 which they used to buy the lot, build the store, purchase fixtures and stock with a little left over for an operating budget. The business was run on credit which put a huge strain on the store because of the lack of cash flow. Since Coaldale was an agriculture town, often accounts were outstanding from spring until late fall when crops were sold. Economy Corner also took orders over the phone and then delivered those orders. Talk about customer service.
Take a photo with our Centennial Owl, Mr. Bogle this week at corner of 20 Avenue and 17 Street home of Kustom Auto Body until April 22.
Week 13
Did you know that one of the first businesses in Coaldale was a rooming house and cafe?
Mrs. Ella Cokeley moved from Gatesburg, Iowa in 1904 with Harry Suggitt and his wife Estelle Cokeley.  Mrs. Cokeley opened her cafe and rooming house in 1905.  Her establishment also served as Coaldale's first post office – Harry Suggitt picked up everyone's mail in Lethbridge and brought it to Mrs. Cokeley's for distribution.  She ran her business for 4 years before marrying one of her boarders and moving to Cowley.  By the 1930s the original building had been moved to Main Street, one building down from the Standard Bank building.  From old pictures, it appears that the rooming house was located very near to the current day A-OK Used Car lot and across from the grain elevator. 
Take a photo with our Centennial Owl, Mr. Bogle this week at corner of 19 Avenue and 17 Street at A-OK Used Car Lot, behind the Town Office until April 14.
Week 12
Did you know that Coaldale had a hatchery?
Jacob and Sara Siemens immigrated from Russia and settled in Coaldale in 1934.  In 1936, the Siemens bought a small house on the corner of 20 Ave and 20 St.  A local source of live poultry was needed in the community, so Jacob, being interested in poultry, installed a hatching unit in one room of their small home.  The demand for chicks was so great that soon he had to build a modern building for his incubators.  Many thousands of chicks were sold with a choice of three breeds.  The Siemens retired and sold their business in 1968.  Both the original house and hatchery were eventually incorporated into the GEN building.
Take a photo with our Centennial Owl, Mr. Bogle this week at GEN Manufacturing Ltd., 2002-20 Street until April 7.
Week 11
Did you know that one small unassuming wooden building housed many "firsts" in Coaldale's history?
Coaldale's "scale house", fire hall, dog pound, village office and library all called the same building their first home? In 1910 this building was built by Harry A. Suggitt to weigh loads of grain for area farmers. In 1922, an addition was added and the Village of Coaldale established a fire hall and dog pound in the new space. By 1930 the Village Office was sharing the space and in 1945 the Community Library also squeezed into the building. After several reincarnations in the years that followed, this little building was incorporated into the adjacent building to form today's Three G Eatery. (Can you spot the washroom facilities in the earlier pictures?)
Take a photo with our Centennial Owl at 1908-18 Street until March 31.
Week 10
Did you know the R.I. Baker Middle School land was originally a park site?
In 1927 the Women's Institute bought this parcel of land on the "southeast corner of the Village" and presented it to the Village to make it a park site for recreational purposes.  Ball games, tennis, district fairs and school field days were held here.  After WW II a large influx of people from Europe settled in Coaldale and the school population increased rapidly. The need for a new school was required.  After serving many years as a recreational hub, the park site made way for the new Baker school which opened in 1950.
Take a photo with our Centennial Owl at the corner of 12 Avenue and 13 Street until March 25.
Week 9
Did you know that the Coaldale Figure Skating Club has been presenting Carnival for the past 46 years? 
The Figure Skating Club was formed the same year the arena was built (1973).  Between 1973 and 1980, enrollment increased from 40 to over 200 skaters.  We are treated to Carnival each spring which not only amazes us with the skating but also with the creative and intricate costumes made by parents.  Audiences have always been large - some years requiring up to 3 performances.
Take a photo with our Centennial Owl at the arena until March 17.
Week 8
Did you know Coaldale had a jail and a courtroom?
In 1947 with donated time, labor and equipment a two storey building was built for approximately $8000.  The main floor of the building was the second home to the library and Town Office but the basement served as jail, police station and courtroom until approximately 1972.  From 1950-51 the top floor was used as temporary class rooms while the R.I. Baker school construction was underway and then served as the first home to the Barons Eureka Health Unit.  It has been noted that you could look into the lower window on the right hand side of the building and see who had been placed behind bars.  The building currently is home to the Coaldale Food Bank and the MLAs office.
Take a photo with our Centennial Owl at 1716-20 Avenue until March 10.
Week 7
Did you know that the first bank in Coaldale was the Standard Bank of Canada which opened in 1919?
The original home of the bank, the basement of the Hay Grower's Hall (Fun Fact Week 5) burned down in 1923.  The bank closed until later that year when it moved into its new building at the corner of present day 17th Street and 20 Avenue.  In 1929, the economy was turning and operations were handed over to the Canadian Bank of Commerce.  By 1933 the "Dirty 30s" were in full swing and the Coaldale branch of the Commerce Bank ceased operations.  This most dignified iconic two story brick building still stands today and is the most identifiable landmark in Coaldale.  It was most recently home to Coaldale Ladies Wear.
Take a photo with our Centennial Owl at the corner of 20 Avenue and 18 Street until March 3.
Week 6
Did you know that curling in Coaldale started with a meeting sponsored by the Kinsmen?
On April 11, 1951, community members interested in curling met and the curling club was formed.  With donations and volunteer labor, a 4 sheet curling rink and kitchen were completed and ready to use on Jan 22, 1953. An outdoor ice surface was located where the current arena is today and the curling rink was located in front of this ice surface.   The new 6 sheet facility was built in 1980 and still stands today.
Earl Foxall, far right, father to past Coaldale Mayor Doug Foxall, was a founding member of the Kinsmen Club of Coaldale which established the first curling rink in town.
Take a photo with our Centennial Owl outside the arena until February 24.
Week 5
Did you know the first community hall in Coaldale was built in 1915?
The Hay Grower's Hall was an extremely important part of Coaldale life – plays, parties, dances, meetings and even boxing matches were held there.  In 1923 the hall burned down but in 1925 a roof was put over the remaining basement and it continued to be used for the next 11 years as the social hub of the community.  In 1936, $2300 was raised and the Diamond City Hotel was purchased, dismantled and parts moved to Coaldale and erected on the basement.  The first dance in the new hall was held in June 1939.  After 33 years of serving the community as a social centre, the Coaldale Community Hall was condemned in 1972. This spot is currently a vacant lot between Dilos and the Library.
Take a photo with our Centennial Owl in the lot North of the Coaldale Library until February 17.
Week 4
Did you know Coaldale had a movie theatre.
The Gem Theatre opened August 28, 1953 and boasted the most modern facilities and equipment available.  It could seat approximately 400 people on plush covered chairs, had a large lobby, restrooms and snack bar.  However, once TV made its way into living rooms, theatre goers started to stay home, so on April 9, 1958, the Gem closed its doors for the last time.
Take a photo with our Centennial Owl 2013-18 Street until February 10.
Week 3
Did you know the first store and post office in Coaldale was built pre-1910?
The store's history is picked up in 1910 when John Caloren purchased the business at the corner of present day 20th Ave and 17th Street (today's Bargain Shop). In 1917 R.J. Baldry took over the store and post office which had 85 post boxes.  The addition of a brick building right next door became the general store allowing the original building to serve as the post office. It is the current location of the Bargain Shop.
Take a photo with our Centennial Owl at the corner of 20 Avenue and 17 Street until February 3.
Week 2
Did you know that in 1916 Coaldale was home to the first Rural Consolidated School in Alberta?
In 1916 there were only 35 students in Coaldale, so neighboring districts thought Coaldale had "taken leave of its senses" to spend $20,000 on this two story brick building with 4 classrooms, modern conveniences and a "fine second story auditorium".  By 1919, 150 students were attending the school, many of whom came to school in horse-drawn vans from as far as 10 miles away.  In 1954, John McDowell Davidson School, which was built just west of the original Consolidated school, opened its doors to accommodate the ever growing school population.
Take a photo with our Centennial Owl at the 2016-19 Street, the site of the current John Davidson School until January 27.
Week 1
Did you know that the name Coaldale was not a reference to coal mining?
Sir Alexander Galt was instrumental in getting the CPR to build a narrow gauge railroad between Lethbridge and Dunmore in 1885 to haul coal.  To honor the Galts, the CPR named the first siding (or stop) east of Lethbridge Coal Dale after the Galt's summer home in Glasgow, Scotland. 
Celebrate Coaldale's 100th by taking a selfie with our Centennial Owl located at the Town of Coaldale Welcome sign until Jan 13.