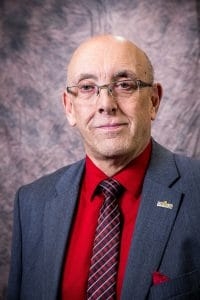 Mayor Craig moved to Coaldale from Lethbridge in 1993. As a financial and investment planner, he says one of the reasons he moved to Coaldale was the number of clients he had who lived in Coaldale and how positively they spoke of the community. After arriving Kim quickly became established, becoming involved with the Coaldale Chamber of Commerce and serving as its president for five years. With a strong background in business and finance, Kim was first elected to Council in 2004. In 2007, he was first elected as Mayor. In 2010, he was re-elected by acclimation and won the 2017 election.
As Mayor, Kim is actively involved in the Integrated Development Strategy (IDS) and is chair of the Southern Alberta Energy Waste Association (SAEWA). In addition to work and politics, Kim also devotes his time to various volunteer activities. He served on the United Church of Coaldale board for six years, and was a board member on the Coaldale Health Centre Foundation where he helped raise funds for the landscape, atrium and chapel construction projects.
In his spare time, Kim enjoys spending time with family and friends, including three kids and two grandchildren. He also enjoys golfing, though he humorously admits that golfing doesn't like him. He's also a charter member of the Sunny South Speakers Toastmasters club. Mayor Kim Craig is an ex officio member of all Committees and Board of the Town of Coaldale.
Committees and Boards
Alberta Birds of Prey
Bylaw Appeal Committee
Canadian Badlands (Alternate)
CAO Personnel Committee
Joint Emergency Services Committee
Joint Inter-Municipal Planning Committee
LINK Regional Pathway Committee
Malloy Drain Steering Committee (Alternate)
Mayors & Reeves of South West Alberta Municipal Partners
Operations Committee
Regional Public Safety Committee
Southern Alberta Waste To Energy Alliance
If you would like to Contact Mayor Craig, please submit your message via the Councillor Contact Form.