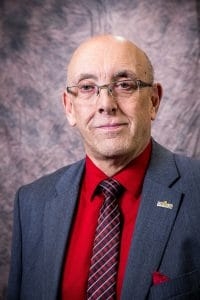 Mayor Craig moved to Coaldale from Lethbridge in 1993. As a financial and investment planner, he says one of the reasons he moved to Coaldale was the number of clients he had who lived in Coaldale and how positively they spoke of the community. After arriving Kim quickly became established, becoming involved with the Coaldale Chamber of Commerce and serving as its president for five years. With a strong background in business and finance, Kim was first elected to Council in 2004. In 2007, he was first elected as Mayor. In 2010, he was re-elected by acclimation and won the 2017 election.
As Mayor, Kim is actively involved in the Integrated Development Strategy (IDS) and is chair of the Southern Alberta Energy Waste Association (SAEWA). In addition to work and politics, Kim also devotes his time to various volunteer activities. He served on the United Church of Coaldale board for six years, and was a board member on the Coaldale Health Centre Foundation where he helped raise funds for the landscape, atrium and chapel construction projects.
In his spare time, Kim enjoys spending time with family and friends, including three kids and two grandchildren. He also enjoys golfing, though he humorously admits that golfing doesn't like him. He's also a charter member of the Sunny South Speakers Toastmasters club. Mayor Kim Craig is an ex officio member of all Committees and Board of the Town of Coaldale.
Mayor's Message
The Town of Coaldale is an emerging community located in the heart of southern Alberta. With state-of-the-art recreational facilities, and a diversity of amenities and tourist attractions, our municipality combines the benefits of small town living with the service provision of larger urban centers. As Council, our mission is to ensure that Coaldale continues to be a preferred place to live, work and play.
Whether you're a developer or business owner seeking the "Coaldale Advantage," a prospective homebuyer looking for a friendly neighborhood, or a couple looking to retire, our community has something for everyone. If you're new to Town, or simply visiting for the weekend, we encourage you to stay a little longer.
Live
The size and scope of new residential developments speak to the appeal of becoming a resident, and our dynamic volunteer base and annual event calendar showcase the vibrant spirit of our residents. Coaldale is an innovative community which meshes sustainable practices into its high quality of life. Our curbside recycling program, for example, combines the benefits of environmental stewardship and convenience, while our Farmer's Market and Community Gardens bring a taste of small town living to your backyard. There are excellent schools for all ages, as well as social resource and support centers for teenagers, seniors and families. And one of the best parts of all—most businesses and recreational facilities are within walking and biking distance!
Work
While residential subdivisions are booming, Council recently invested 5 million dollars into its Northeast Industrial Park, selling lots, and attracting new businesses, along the way. With affordable industrial land, a competitive commercial mill rate, and attractive business incentive packages, Coaldale has become a premier destination for commercial growth, business relocation and development. Throughout Town there are numerous businesses that cover a wide range of services and employment opportunities, including restaurants, banks, gas stations, trades, manufacturing, flowers and giftware, professional services and more.
Play
If you're looking for fun-filled activities, the Alberta Birds of Prey Center and the Gem of the West Museum are must-see attractions; and Land-O-Lakes Golf and Country Club is a premier golfing destination. Our new spray park and outdoor wading pool has become an ideal hotspot for children and young families, while our refurbished outdoor swimming pool provides an excellent locale for more advanced fitness, lessons and fun. To cap it off, we have a fully functional library and senior's center, a newly renovated curling facility and skating arena, as well as many parks and playgrounds. Don't forget to check out "Rotary Park," our state-of-the-art sportsfield complex at the Quads.
Coaldale is truly becoming a recreational and commercial Hub of Southern Alberta. Indeed, the number of events hosted each year provides an excellent opportunity to showcase our growing municipality. We think Coaldale is a Wise Choice, and many visitors, business owners and residents know why.
Committees and Boards
Alberta Birds of Prey
Bylaw Appeal Committee
Canadian Badlands (Alternate)
CAO Personnel Committee
Joint Emergency Services Committee
Joint Inter-Municipal Planning Committee
LINK Regional Pathway Committee
Malloy Drain Steering Committee (Alternate)
Mayors & Reeves of South West Alberta Municipal Partners
Operations Committee
Regional Public Safety Committee
Southern Alberta Waste To Energy Alliance
If you would like to Contact Mayor Craig, please submit your message via the Councillor Contact Form or send an email to mayor@coaldale.ca.